Home
561pages on
Haikyuu!! Wiki
Talk

2
Welcome to the Haikyuu!! Wiki
"I may be small, but I can jump!"
Welcome to the Haikyuu!! Wiki, the encylopedia for the anime and manga Haikyū!! that anyone can edit. Please feel free to contribute to our site or take a look around, but please be aware that our site contains heavy spoilers.
Featured Article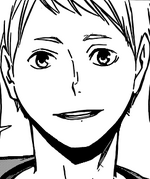 Akiteru Tsukishima
is a former student of
Karasuno High
and the older brother of
Kei Tsukishima
. During middle school, Akiteru was the captain and ace of school volleyball club. However, when he later graduated to Karasuno High and joined their volleyball club, he was unable to make it as a starting player - a fact that he hid from his brother and ultimately led to their falling out. Years later, though, their brotherly relationship started to improve, and he now helps his younger brother become better player.
Read more...
Newest Chapter

Kuroo and Yaku have a flashback to when they first joined the volleyball club. Their relationship started off very badly and they would often disagree on minor things, such as girl's hairstyles and favorite foods. One day during practice, they realized that they both had the same goal to dominate nationals. This helped them to put aside their differences and become teammates who trust each other. Back in present time, Kenma gives instructions and words of encouragement to his teammates, and they continue the match. Nekoma puts pressure on Nohebi and manages to catch up resulting in the tie of 22-22.

Newest Episode

Karasuno are through to the finals to determine the Miyagi representative for the Spring High Tournament. Aobajōsai lament on their loss, but vow to beat Karasuno the following year. Oikawa bumps into Ushijima, in which the latter tells him that he had chosen the wrong path, but the former tells him that there is no one team that can guarantee victory. Later on, Ushijima approaches Karasuno at the entrance of the gymnasium, and Hinata and Kageyama vow to beat Shiratorizawa to make it to the nationals.
Today is July 30, 2016.
Currently editing 561 articles and 1,650 images files, for a total of 35,458 edits.
About Haikyū!!
Shōyō Hinata
, after seeing a volleyball match, aims to become the next
"Small Giant"
and thus joins his
middle school volleyball club
. After finding new members, he sets out for the middle school tournament, where he crosses paths with a formidable school with the "King of the Upper Court,"
Tobio Kageyama
. Although his team lost, Hinata is still determined to aim for the top and exact revenge on Kageyama. Upon entering
high school
, he receives the biggest surprise: He and Kageyama are in the same high school volleyball club!
News
Slideshow
Social Media
Affiliates
Do you want to become affiliated with our wiki? Leave a message to one of our admins here.