Home
511pages on
Haikyuu!! Wiki
Talk

2
Welcome to the Haikyuu!! Wiki
"I may be small, but I can jump!"
Welcome to the Haikyuu!! Wiki, the encylopedia for the anime and manga Haikyū!! that anyone can edit. Please feel free to contribute to our site or take a look around, but please be aware that our site contains heavy spoilers.
Featured Article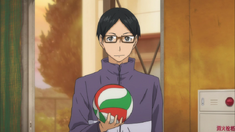 Newest Chapter

Eita Semi returns as the pinch server. With Shiratorizawa close to 15 points, Karasuno's fans starts getting nervous. They try to lift up their team through their enthusiastic cheers but their voices are overshadowed by Shiratoriza's school anthem. As Wakatoshi is about to pull another strong spike, Hinata, to the surprise of many, blocks the ball by receiving it really close to the net. Karasuno finally reaches the double digits.

Newest Episode

Hitoka feels conflicted about joining the volleyball team. After watching their practice match against Ōginishi High, she starts to see the charm of the team. However, she is having a difficult time expressing her feelings to her mother, afraid that she might disapprove. Luckily, Hinata helps her overcome it by showing to her that even a small role such as a "Townsperson B" can be great.
Affiliates
Do you want to become affiliated with our wiki? Leave a message to one of our admins here.
Today is February 12, 2016.
Currently editing 511 articles and 1,328 images files, for a total of 27,535 edits.
About Haikyū!!
Shōyō Hinata
, after seeing a volleyball match, aims to become the next
"Small Giant"
and thus joins his
middle school volleyball club
. After finding new members, he sets out for the middle school tournament, where he crosses paths with a formidable school with the "King of the Upper Court,"
Tobio Kageyama
. Although his team lost, Hinata is still determined to aim for the top and exact revenge on Kageyama. Upon entering
high school
, he receives the biggest surprise: He and Kageyama are in the same high school volleyball club!
News
December 28, 2015 - Chapter 187 is released.
December 26, 2015 - Episode 13 of the second season premieres.
December 19, 2015 - Episode 12 of the second season premieres.
December 14, 2015 - Chapter 186 is released.
Slideshow
Social Media