Welcome to the Haikyuu!! Wiki
"I may be small, but I can jump!"
Welcome to the Haikyuu!! Wiki, the encylopedia for the anime and manga Haikyū!! that anyone can edit. Please feel free to contribute to our site or take a look around, but please be aware that our site contains heavy spoilers.
Featured Article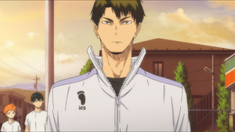 Wakatoshi Ushijima
is a third year at
Shiratorizawa Academy
and the captain and ace of the school's volleyball team. He's currently the number one ace in Miyagi prefecture. His spikes are considered to be one of the most powerful not only because they are based on pure strength but also because of their different ball rotation. (He's left-handed). He believes that the other players, especially the setter, needs to devote themselves to him, the ace.
Hinata
vowed to Ushijima to show to him what real strength is.
Read more...
Newest Chapter

Nekoma is able to cut off Yamaguchi's third serve, giving them a chance to counter-attack, as they finally manage to get a full grasp of their defense. Nekoma catches up to Karasuno, but Kageyama and Hinata halts their momentum with their quick attack, widening the point gap once more.

Newest Episode

Karasuno, who were once named as the "Fallen Rivals" and "Flightless Crows", defeats Shiratorizawa with a score of 21-19. Tears of joy and mixed emotions burst through, as Karasuno resolves to win the upcoming Spring Interhigh Tournament.
Today is November 9, 2018.
Currently editing 792 articles and 2,917 images files, for a total of 58,084 edits.
About Haikyū!!
Shōyō Hinata
, after seeing a volleyball match, aims to become the next
"Small Giant"
and thus joins his
middle school volleyball club
. After finding new members, he sets out for the middle school tournament, where he crosses paths with a formidable school with the "King of the Upper Court,"
Tobio Kageyama
. Although his team lost, Hinata is still determined to aim for the top and exact revenge on Kageyama. Upon entering
high school
, he receives the biggest surprise: He and Kageyama are in the same high school volleyball club!
News
November 6, 2018 - Volume 29 will released in the US.
October 4, 2018 - Volume 34 is released in Japan.
Slideshow
Social Media
Affiliates
Do you want to become affiliated with our wiki? Leave a message to one of our admins here.