Welcome to the Haikyuu!! Wiki
"I may be small, but I can jump!"
Welcome to the Haikyuu!! Wiki, the encylopedia for the anime and manga Haikyū!! that anyone can edit. Please feel free to contribute to our site or take a look around, but please be aware that our site contains heavy spoilers.
Featured Article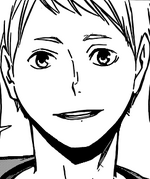 Akiteru Tsukishima
is a former student of
Karasuno High
and the older brother of
Kei Tsukishima
. During middle school, Akiteru was the captain and ace of school volleyball club. However, when he later graduated to Karasuno High and joined their volleyball club, he was unable to make it as a starting player - a fact that he hid from his brother and ultimately led to their falling out. Years later, though, their brotherly relationship started to improve, and he now helps his younger brother become better player.
Read more...
Newest Chapter

Kageyama is having a hard time adjusting to his surroundings which is affecting Karasuno's first match against Tsubakihara Academy. The only thing his teammates can do is hold out until Kageyama recalibrates. Yamaguchi is switched in with Hinata as a pinch server and manages to change the momentum for Karasuno. Finally after trial and error, Kageyama and Hinata manage to successfully pull off their quick. The score is currently 13-15 with Tsubakihara in the lead.

Newest Episode

Daichi remembers his first year at Karasuno, and how important this match is for the pride of Karasuno. The fourth set continues and Karasuno pulls ahead, but Ushijima manages to find holes in their defense. The game goes to deuce, while fatigue starts to set in for Kageyama. At match point for Karasuno, Kageyama undershoots and Hinata manages to nudge the ball with his left hand, winning the set.
Today is January 20, 2017.
Currently editing 621 articles and 1,925 images files, for a total of 41,049 edits.
About Haikyū!!
Shōyō Hinata
, after seeing a volleyball match, aims to become the next
"Small Giant"
and thus joins his
middle school volleyball club
. After finding new members, he sets out for the middle school tournament, where he crosses paths with a formidable school with the "King of the Upper Court,"
Tobio Kageyama
. Although his team lost, Hinata is still determined to aim for the top and exact revenge on Kageyama. Upon entering
high school
, he receives the biggest surprise: He and Kageyama are in the same high school volleyball club!
News
Slideshow
Social Media
Affiliates
Do you want to become affiliated with our wiki? Leave a message to one of our admins here.
Ad blocker interference detected!
Wikia is a free-to-use site that makes money from advertising. We have a modified experience for viewers using ad blockers

Wikia is not accessible if you've made further modifications. Remove the custom ad blocker rule(s) and the page will load as expected.