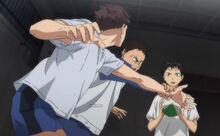 Knowing Oikawa since early childhood, they both went to the same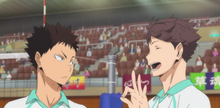 school, Kitagawa Daiichi Junior High and it's rumored that they've been in the same schools until high school. They were both bitter rivals of Wakatoshi Ushijima, although Iwaizumi didn't seem to take him as seriously as Oikawa did. Iwaizumi constantly kept his friend in check, including the time Oikawa almost hit Tobio Kageyama. He often uses violent and somewhat harsh words to Oikawa but despite all that he still strongly cares for Oikawa. Naturally, he lectured Oikawa harshly on how he's not on the court alone, and that he always has his teammates on the court with him. Iwaizumi and Oikawa later attended Aobajōsai High together, becoming Vice-Captain and Captain respectively by their third year.
Ad blocker interference detected!
Wikia is a free-to-use site that makes money from advertising. We have a modified experience for viewers using ad blockers

Wikia is not accessible if you've made further modifications. Remove the custom ad blocker rule(s) and the page will load as expected.