Karasuno High Team Formation Arc
Edit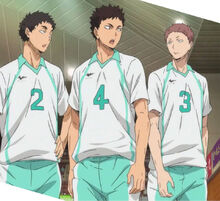 Interhigh
Edit
In the Interhigh preliminaries, Iwaizumi's team faced off against Karasuno High. In the end, Aobajousai advanced, but only to be defeated in the next round by Shiratorizawa Academy. While most 3rd years from other various schools moved on and left the volleyball club behind after the Interhigh, Iwaizumi and the other 3rd years stuck around to have another chance at beating Shiratorizawa.
Tokyo Expedition Arc
Edit
Spring High Preliminary Arc
Edit
Ad blocker interference detected!
Wikia is a free-to-use site that makes money from advertising. We have a modified experience for viewers using ad blockers

Wikia is not accessible if you've made further modifications. Remove the custom ad blocker rule(s) and the page will load as expected.