Karasuno High Team Formation Arc
Edit
Sugawara goes with Daichi and Tanaka to the junior high tournament to watch the "King of the Upper Court"[1]. A year later, Sugawara enters the Karasuno gymnasium alongside Daichi and Tanaka to greet the new members of the club: the same players they'd watched in the tournament.
Sugawara approaches Kageyama and remarks that he's grown taller. Suddenly, Tanaka points out Hinata as the shorty from last year, surprising Sugawara. The third year compliments Hinata for his jumps and encourages Hinata's goal of becoming the ace. However, Kageyama quickly criticizes Hinata for it, leading to a small fight that gains the vice principal's attention. Sugawara and Daichi try to show the vice principal that nothing's going on, but to no avail as the two first years challenge each other to a mini-match.
The mini-match accumulates with the two knocking the vice principal's wig off his head and onto Daichi's head. Sugawara calls out to him in concern before yelling at Tanaka to shut up. Daichi goes outside with the vice principal as Sugawara stares after him. A few minutes later, Daichi returns and rounds everyone up. Sugawara gets scared when he realizes that Daichi's angry. Daichi gives a small speech to the members as they stand there silently before throwing the two first years out.
The two start pounding on the closed doors as Sugawara turns to Daichi and asks him if he's sure about this. However, his doubts are cleared when he hears the two arguing outside.
3-on-3 First Years Match
During a break in practice, Sugawara talks to Tanaka and notes that it'll be good if the two first years can properly reflect on what they did, even if it's just a little bit. Daichi adds that Kageyama needs to change his selfish playing style first. Suddenly, they hear the first years call Daichi and Tanaka opens the door to see them still standing there.
Together, they challenge the third years to a match. Daichi changes it to a three-on-three against the other first years and propose a punishment that if Kageyama loses, he can't play setter as long as the third years are around. Kageyama reluctantly accepts and as the third years return to practice, Sugawara watches him with sympathy.
After the first years leave, Sugawara asks Daichi if he's being too tough on them. Daichi explains that he needs the two to get along well because they have the potential to form an incredible team. Later that evening, Tanaka asks for the keys to the gym and a suspicious Sugawara deduces instantly that Tanaka's planning something with the first years.
The next morning[2], Sugawara comes in early and surprises the underclassmen. He keeps the practice a secret from Daichi though and helps Hinata practice while Kageyama practices with Tanaka. Hinata asks Kageyama for a toss, but the latter adamantly refuses even as Sugawara lightly scolds him.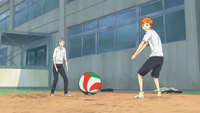 Later that day, Sugawara practices tossing with Hinata during the lunch break and asks him about his junior high. Hinata reveals the troubles he went through and Sugawara tries to motivate him, but Hinata insists that he wants a toss from Kageyama. Sugawara asks if Hinata sees Kageyama as the strongest enemy. After Hinata reluctantly confirms it, Sugawara reminds him that Kageyama is now his strongest ally so they need to learn to play together.
During practice, Sugawara watches Hinata and Kageyama working together and remark to Tanaka that to receive a toss from a setter is normal for them, but for Hinata, it's a privilege. Sugawara also notices that Kageyama has changed significantly since junior high, especially when it comes to his confidence in himself.
On the day of the 3-on-3 match, though Sugawara doesn't play, he watches his teammates and observes the underclassmen's skills. As Kageyama displays his true skills, Sugawara watches enviously and notes that Kageyama's truly amazing.
When the two first years try out a quick strike and it fails, Sugawara steps in between their argument with each other and points out that Kageyama's acting like he'd during junior high. He notes that Hinata may not have the technique or experience needed, but he has the physical ability. Kageyama has the skills to utilize Hinata's abilities to the fullest potential. As he says this, Sugawara acknowledges that he doesn't have the same skills so for someone like Kageyama, he should take advantage of what he has[3].
After the match ends in Kageyama and Hinata's favor, Sugawara stands off to the side with Daichi. Tanaka approaches them and asks if they'd planned for the two first years to get along like this. The two deny it and Sugawara adds that it wasn't Hinata who matched Kageyama's toss, but rather Kageyama who matched to the spiker.
As the first years are officially welcomed into the club, Daichi goes to Sugawara and Tanaka and thanks them for making things work. Sugawara tries to deny it, but Daichi implies that he knew about their secret practices. In return, Sugawara compliments Daichi for his work.
Interhigh
Edit
Sugawara only plays once in the Interhigh match, and that was when Kageyama was subbed out. He comforts the first-year setter by saying that this was a chance for him to cool his head. Coach Ukai later tells Kageyama in the background to watch his senpai play, and take note on what he does. When Sugawara steps onto the court, he is able to cheer his teammates up with a bright smile and words of encouragement. Despite not spending much time on the court, he was able to help Karasuno gain more points by being about to point out what tactics their opponents could use, as well as giving advice to his own teammates.
Tokyo Expedition Arc
Edit
Spring High Preliminary Arc
Edit
References
Edit
Ad blocker interference detected!
Wikia is a free-to-use site that makes money from advertising. We have a modified experience for viewers using ad blockers

Wikia is not accessible if you've made further modifications. Remove the custom ad blocker rule(s) and the page will load as expected.