Kitagawa Daiichi Junior High

Kanji
北川第一中学
Romaji
Kitagawa Daiichi Chūgaku
Team
Colors
Dark Blue / White
Kitagawa Daiichi Junior High (Japanese: 北川第一中学, Kitagawa Daiichi Chūgaku) is a junior high school in the Miyagi Prefecture that was once attended by Kageyama and a large portion of the current Aobajōsai High Boys' Volleyball Team.
Volleyball Club
Edit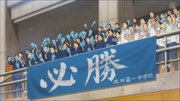 One year prior to the series' current time period, the Boys' Volleyball Team was the favorite to win the Junior High Athletics Meet. However, it ultimately ended up placing second. Since Oikawa and Iwaizumi were on the team, it had always performed well in tournaments, usually only losing to Shiratorizawa Junior High.
Past Members
Edit
The following information is for each character's third year in junior high.
Junior High Athletics Meet
Edit
Other Matches
Edit
Kitagawa Daiichi Junior High School vs Chidoriyama Junior High School (2:1)
Kitagawa Daiichi Junior High School vs Shiratorizawa Academy Junior High (1:2 / ??-??, 29-27, ??-??)
In the official English sub of the anime the school is referred to as "Kitagawa First" instead of "Kitagawa Daiichi".
Ad blocker interference detected!
Wikia is a free-to-use site that makes money from advertising. We have a modified experience for viewers using ad blockers

Wikia is not accessible if you've made further modifications. Remove the custom ad blocker rule(s) and the page will load as expected.