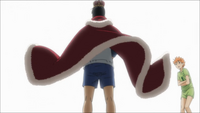 Kageyama started playing volleyball in his second year at Akiyama Elementary and soon evolved into a genius setter. Once he entered Kitagawa Daiichi Junior High, it was clear that his potential would be much higher than the other players' on his team, including the current third year setter Tōru Oikawa. However, Kageyama's exceptional abilities and lack of consideration for others led him to develop an arrogant demeanor and an inability to cooperate with his teammates, causing them to refer to him as the "King of the Court". Since the true meaning of this nickname was only known to the players at Kitagawa Daiichi, outsiders simply assumed that it referred to Kageyama's incredible talent.
By his third year of junior high, Kageyama's attitude had already destroyed his relationship with his teammates to the point where two of them considered asking the coach to bench the setter. Despite the setter's lack of teamwork, Kitagawa Daiichi still managed to be a favorite to win at the Junior High Athletics Meet. Its first match was against Hinata's team, Yukigaoka Junior High School. Before the game began, Kageyama went to the bathroom, where he encountered Hinata being bullied by members from Kitagawa Daiichi. Kageyama coldly criticized them before turning his attention to Hinata. Despite Kageyama's mocking of Hinata's lack of height and overly idealistic ambition, Hinata wasn't fazed and challenged Kageyama instead, surprising and irritating the latter. Kageyama accepted angrily before leaving.
As expected, Kitagawa Daiichi easily overwhelmed Yukigaoka, but Hinata remained determined. Kageyama admired Hinata's high jumps, overall athletic abilities, and determination, but didn't change his poor opinion of the wing spiker. In the end, Kitagawa Daiichi won both sets (25-5, 25-8). As the teams lined up, Kageyama angrily asked Hinata what he had been doing for the past three years before getting called away. Afterwards, as they were leaving, Hinata ran up to Kageyama and vowed to defeat him next time. Kageyama accepted his challenge, but probably didn't take it very seriously then since he didn't remember Hinata at first when they saw each other again in Karasuno.
Kitagawa Daiichi moved forward with the tournament, but lost at finals; it's hinted that Kageyama may be one of the main reasons for the loss due to his picture being on an article about the match.
At some point during the junior high competitions in his third year, Kageyama sent a toss to his teammates in the middle of a game–only to find no one behind him. His teammates refused to hit his tosses anymore, showing their clear desire of having him removed from the team. Kageyama was then benched and ended his final game at Kitagawa Daiichi in shame.
In the present day, he still gets extremely angry when he is called by his nickname, "King of the Court", but has changed dramatically, terrified that his new teammates will turn their backs on him again.
Ad blocker interference detected!
Wikia is a free-to-use site that makes money from advertising. We have a modified experience for viewers using ad blockers

Wikia is not accessible if you've made further modifications. Remove the custom ad blocker rule(s) and the page will load as expected.